Our Firm
Orchestra Private Equity ("Orchestra" or "OPE") was established in 2014 and has offices in Tokyo and Seoul; and has fund management office in Singapore. OPE targets buyout investments in Japanese and Korean smaller end of the middle market ("SEMM") companies.
OPE was founded by 2 Partners, Jay Kim and Hiro Wakashita, who started working together in 2007 as starting members of an Asia regional buyout fund of a prominent global GP.
The 2 Partners each have 15 years of the SEMM buyout experience and have collectively sourced more than 1,000 buyout deals in Japan and Korea.
To date, OPE has been operating on a pledged fund basis with total investment size at USD 222M AUM. The team has made 4 platform acquisition, 7 add-on acquisitions, and 2 subsidiary exits.
11 Orchestra members are Japan, Korea, and Singapore-native, multicultural-talent with English fluency. Members work under a firm-wide matrix structure and are fluidly assigned to cross-border projects.
Deep Smaller End of the Middle Market Experience in East Asia
Orchestra's investment activities are based on global perspective. However, Orchestra avoids 'Cookie Cutter Approach' to deals. Investment criteria are localized to Japanese and Korean accord, based on each country's macro trends, industry's long-term viability, segment's regulatory environment, and company's acquisition financing accessibility.
Orchestra puts a strong emphasis on building grade-A multicultural management teams. To manage Asian executive talent, the team puts efforts into ensuring professionalism, setting operating rhythm, providing guidance on ethics & ESG standards, and establishing financial and operating objectives based on investment strategy aligned with incentives.
Orchestra works with management teams to create value and execute buy-and-build strategy Hands-on operational approach includes launching new products, rejuvenating sales & marketing to expand customers, entering new geographies, establishing supply chain strategy, installing new MIS, rationalizing cost, and executing add-on acquisitions.
Investment Strategy – 'Orchestra SEMM Model'
Transact on Buyout Opportunities Only

Acquire controlling stakes of niche leaders at the smaller end of the middle market (investment size at sub-USD 100M).
Family-owned businesses with succession issues; owners looking for a partner to assist with the next stage of growth; public-to-private deals; and corporate carve-outs.

Platform Investments in Japan and Korea Only

Japan and Korea are the most developed Asian countries with sophisticated legal and financing infrastructure suited for leveraged buyout deals.
Japan and Korea have a plethora of mid/small cap companies that have good foundations with the upside of global expansion.

Add-on Acquisition

Add-on acquisitions of overseas players to enter new geographies; domestic competitors to expand market share.
Vertical add-on acquisitions to gain efficiency.
Add-on acquisition of companies in adjacent industries to enter new markets.

Operation Heavy Model to Support Expansion (J Curve Growth)

Heavily involved in operations (including interim management roles) to quickly strengthen system and organization.
Intense post-acquisition activities (growth CAPEX, MIS installation, enhancing sales & marketing, etc.).
Build grade-A management teams that can lead next stage of growth.

Thesis in Lifestyle Businesses (Consumer Goods, Retails, Services, Franchisors, etc.)

Invest in East Asian companies that are aligned with general consumption trends.
Demographics of an aging population and larger disposable income provide strong opportunities in the lifestyle space.

Target Light-CAPEX Companies

Acquire nimble companies that are receptive to change and can adapt quickly.
Acquire scalable businesses with the ability to expand domestically and globally without high capital requirements.

Buy-and-Build into 'Global Champions'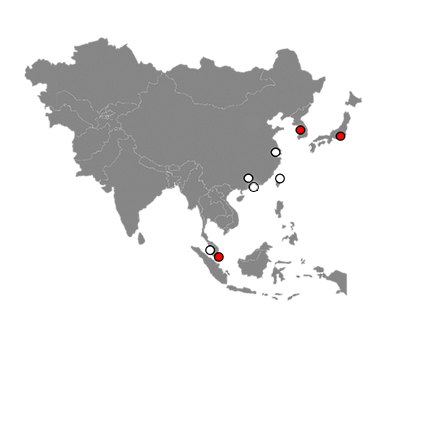 OPE Offices
Expanded Presence, through Portfolio Company Offices (also presence in LA USA, Barcelona Spain)
Orchestra builds Japan and Korea smaller end of the middle market companies into 'global champions' through buy-and-build strategy that includes long-term investment and add-on acquisition
East Asia have plethora of healthy smaller end of the middle market businesses that have strong products, brands, and intellectual properties that have global expansion upside.
Orchestra, work with portfolio company management teams to accelerate geographic expansion from Day 1.
Orchestra pursues aggressive add-on acquisition of overseas player to enter new geography. Also pursues add-on acquisition of domestic competitors to expand market share, vertical add-on acquisition to gain efficiency, and add-on acquisition of companies in adjacent industries to enter new markets.
Orchestra actively invests in corporate infrastructure to achieve strong growth over the hold-period. Areas of investment can include building grade-A management team that can lead next stage of growth, installing MIS, reengineering supply chain, and enhancing sales & marketing.
Investment Criteria
Business Definition

Buyout of Korean and Japanese companies at the smaller end of the middle market

Company Size

Revenue of USD 40M to 500M and EBITDA of USD 4M to 25M

Investment Size

Sub USD 100M

Regions

Platform investments: Japan and Korea
Add-on acquisitions: Global, with emphasis in Japan, Korea, and Singapore

Industries

In a wide variety of industries that can grow to 'Global Champions', including:

Business services
Consumer brands
Education and training
Franchisors
Healthcare
Software and IT
Specialty manufacturing and distribution

Transaction Type

Family-owned businesses with succession issues
Owners looking for a partner to assist in the next stage of growth
Public-to-privates
Corporate carve-outs
Recapitalization buyouts
ESG Policy
Environmental, social, and governance ("ESG") issues have an impact on the communities in which we and our portfolio investments operate. Orchestra Private Equity believes that incorporating ESG-related principles throughout the investment lifecycle and the Firm's operations supports our mission of building long-term value for all our stakeholders.
OPE ESG Policy provides a framework for the shared values and responsible business practices that the Firm's employees are expected to follow. The Firm's philosophy is based on building long-term value driven by sustainable value creation. We believe that engaging with a well-defined set of investment criteria, which includes ESG considerations, mitigates risk, and helps us build long-term value for our stakeholders across our investment strategies. We are committed to being responsible stewards of the capital entrusted to us by our investors and will endeavor to support our shared ESG objectives.
Compliance Policy
The investments and operations of Orchestra Private Equity span across multiple geographies with fund investors from all around the world. Compliance is a fundamental philosophy of OPE, essential to ensure OPE's continuing existence and success.
OPE is committed to ensure that it complies with all applicable laws and regulations, and that it strives to meet the requirements of those standards and codes of practice that apply to its day-to-day operational activities and responsibilities.
Through adopting a stringent and yet practical approach, coupled with a framework comprising of policies, codes of conduct, rules and procedures, OPE is able to meet regulatory objectives to protect investors and ensure that markets are fair, efficient and transparent while reducing system risks and eliminating financial crimes.
In addition to regulatory objectives, OPE's compliance policy is formulated to instill investors' confidence in OPE with governance over key concerns of risk management, marketing, communications, data privacy, conflicts of interest, insider trading, client assets and monies as well as rule-breaking and errors.
Ethics Policy
As a financial institution, Orchestra Private Equity ("OPE") stresses the importance of ethics and ethical practices in business interactions and dealings, extending well beyond basic regulatory compliance considerations. A strong code of ethics can benefit OPE both financially and socially, giving its fund investors and other stakeholders the confidence and trust in OPE to deliver its commitments without compromising integrity, uprightness and moral principles.
OPE formulates its Ethics Policy for all its employees to ensure strict adherence when interacting with parties inside and outside of OPE. The purpose is to create a conscious effort to treat individuals and companies with respect and establish a positive working environment.
The Ethics Policy comprises of guidelines, codes of conduct and practices which address controversial topics and situations surrounding corporate governance, insider trading, bribery, corruption, confidentiality, discrimination, social responsibility, and fiduciary responsibilities.